So, I found a single awesome place mat at the new local thrift store and fell in love.
So stripey.
So cheerful.
So lonely there with no matching place mat friends.
Don't you worry happy little place mat. I have an idea for you.
You'll be an awesome purse in no time!
This project is insanely easy, requires sewing as few as two straight lines and you can make it as complex or as simple as you want.
The first thing I did was make a strap by cutting a 1.5 inch strip about 16 inches long. I ironed on a small strip of interfacing down the middle then folded in the sides 1/4 inch, ironed then folded in the sides again and ironed again making a long strap that I zig-zag stitched down the middle.
Fold your place mat in half. This is the body of your purse. We'll stitch up the sides in a minute but lets add some function inside first.
Using the same fabric I used to make the strap, I sewed a small pocket into the inside of the purse. I measured the pocket to accommodate my iphone. You cold make a phone pocket, a key pocket, add snaps or zippers or skip this all together.
Time to add the strap by sewing it where want it. Sew it into the inside of the purse because it looks neater that way.
Now, sew up the sides. To make it super secure go over your stitches a few times. If the edges of your place mat are prone to fraying you can sew it inside out and flip it, keeping the seams on the inside. My place mat had nicely finished edges so I simply stitched up the outside and was done.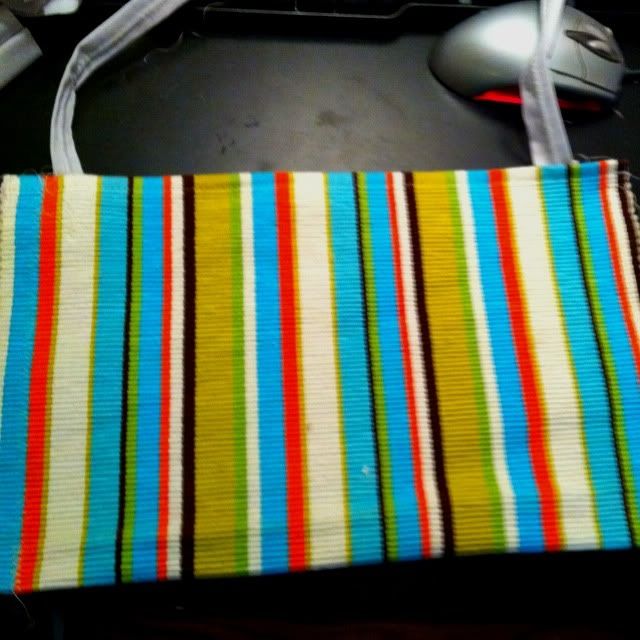 A lonely thrift store place mat became a cute, functional purse for under $1 and in less than 1 hour.
It doesn't get better than that!